How to Install or Update Enfold theme?
Enfold is one of the most loved, most popular and highly rated theme. It's packed with user-friendly features, beautiful designs and it is deeply integrated with commonly used third-party services like WooCommerce, WPML, MailChimp, Events Calendar and other popular plugins.
Enfold comes with a wide range of ready to use demos and help you easily set up a shop, business site, personal blog, portfolio, agency, travel website and a lot more. Assuming you have already installed WordPress let's take a look at installing enfold, importing demos and keeping it secure and up to date.
If you are installing a theme, plug-in or modifying any files belonging to your existing website on which you have invested time, money and effort. It's important to backup your website and save yourself the effort of setting up the site again from scratch if anything goes wrong.
The WordPress Codex has useful info about WordPress site backups.
Some plugins make it easy to take backups:
Import/Export custom post types using plugins
Enfold uses custom fields to store the template builder data. it's really easy to add these fields to the export/import file using a plugin like WP Import/Export All
Export:
Go to All Export > New Export on the admin page and select the post type you would like to export (i.e. "Pages").
Click "Customize Export File"
On the next page select "All Custom Fields" and "All Other" cards from the tabs and to drag and drop these cards to the left area. ( Because by default the plugins will not export/import custom fields ).
After you added all required fields to the left area click on "Continue" and then click "Confirm & Run Export" button.
Once the export process finishes click the "Bundle" to download the export files.
The "Bundle" also contains a configuration file which automatically configures the import script if you want to import the data on another website/server.
Import:
To import the "Bundle" go to "All Import" > "New Import" on the WordPress admin page.
Select the "Upload a file" button. The "Bundle" configuration file will automatically select the right post type for you and you just need to click on the "Continue to Step 2" button.
You can ignore the next settings page and click on the "Continue to Step 3" button.
On the next page, you'll notice that the "Custom Fields" tab at the bottom is already configured and contains the custom fields you exported before.
Check if necessary fields are configured, then click on "Continue to Step 4".
On the next page click on "Continue", then "Confirm & Run Import" and the import process will start.
That's it – you successfully exported/imported your entries including the Enfold template builder data.
Straight uploading the downloaded package with all files and documentation to WordPress will display an error. This is because the package contains extra files and format that is not recognised by WordPress. Unpack the downloaded package and upload only the enfold folder with the theme files or just download the Installable WordPress file to upload via WordPress dashboard.
To install a theme from WordPress dashboard navigate to Dashboard > Appearance > Themes and click on the "Add New" option on the top.

In the next screen click on the "Upload Theme" option.

Browse the downloaded theme file and install.

To re-install enfold theme via the WordPress dashboard without losing data.
Go to Appearance > Themes page and first, deactivate the active enfold theme as active themes cannot be removed.
Activate the default WordPress theme.
View the theme details of the theme you like to delete and click "Delete".
Upload a freshly downloaded copy of the theme from ThemeForest.
To understand FTP think of it as a folder with a lot of sub-folders just like it is on your local system.
Log into your FTP account using an FTP program like FileZilla.
Locate the WordPress installation folder and browse to wp-content/themes.
In WordPress dashboard, we uploaded a zip file but via FTP we need to extract the theme files from enfold.zip and upload the enfold folder with the theme files.
Upload the main theme files to wp-content/themes/enfold and upload the child theme files to wp-content/themes/enfold-child
Both parent and child theme should display in Appearance > Themes page.
Activate Enfold Child theme from Appearance > Themes page.
Re-install or Update using FTP
Worried about losing data when re-installing the theme via FTP?
Well, do not worry the pages and posts you have created will be safe in WordPress database and we are not going to make any changes to the data.
If you don't have an FTP client you can also do this using the File Manager available in your hosting control panel.
Re-installing the theme is nothing complicated it is same as deleting a folder on your desktop and re-creating a new one 🙂 Just access WordPress directory on your server and go to folder "wp-content/themes" delete "enfold" folder and upload the fresh copy of the theme files downloaded from ThemeForest.
Uploading the theme files using the File Manager in your hosting account is very easy. In most cases it will be similar to the below steps. However, depending on your hosting plan the steps may differ but it's easy to find out how to use the File Manager by searching the hosting company knowledge base 🙂
 Login to your hosting account and access the File Manager ( In most cases it's found under Quick Links or the Files section).
Open File Manager and browse to the wordpress folder usually the wordpress files are installed in the root directory of your site.
Uploaded the latest version of the theme files to wp-content/themes/enfold (some hosting companies may not support uploading zip files and extraction using the File Manager tool).
Activate Enfold theme from Appearance > Themes page in WordPress dashboard.
The recommended technique for modifying your theme in WordPress is via the use of a child theme. This is simply a separate theme that inherits the parent theme's functionality and gives you an encapsulated space to store your own modifications.
We highly recommend installing the child theme from the beginning because if there is a need for custom modification in future it's the best way to ensure that any changes you make to child theme files are saved without the risk of a theme update writing over your work. The WordPress Codex provides an excellent overview for those new to this topic, including a comprehensive section on how to create a child theme.
Download the child theme files and install from WordPress > Appearance > Themes or access your FTP and upload the child theme to wp-content/themes. To confirm the child theme is installed properly, go to WordPress > Appearance > Themes the Enfold child theme should appear here. Lastly, import your main theme options from Enfold > Import/Export > Import Parent Theme Settings.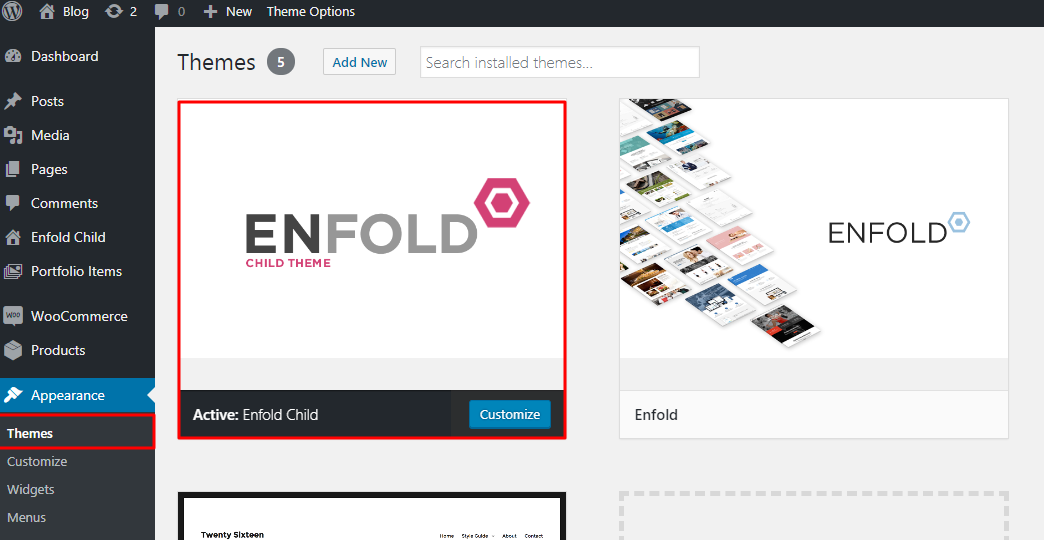 Move from a local Installation to a live server
Many users prefer to develop their Enfold based site on a local server and then transfer the database to their live installation. While this isn't something support can help with directly the plugin WP Migrate DB will make the whole migration go much more smoothly.
WP MigrateDB or WP MigrateDB PRO
WP Migrate DB Exports your database, does a find and replace on URLs and file paths, then allows you to save it to your computer.
You can also use this same plugin when moving from one domain to another since the steps would be almost the same.
Additional resource: Migrating Your WordPress Database: WP Migrate DB – Production to Development
Activation & Registration
Activate the theme: After uploading the Enfold main theme and Enfold child theme both the themes should show in the Appearance > Themes page. Just click on the "Activate" button on the child theme to activate it.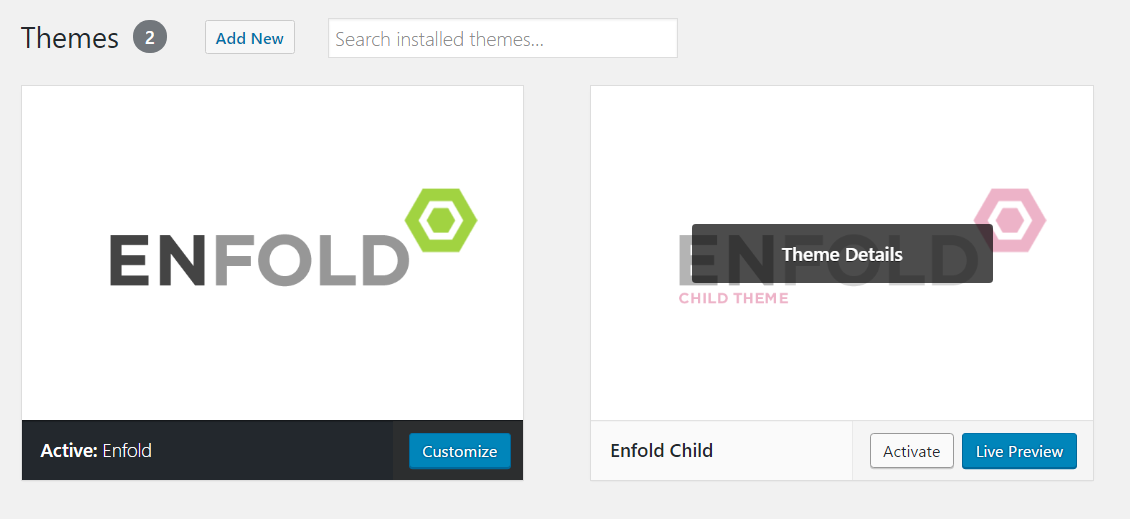 Successful activation of the theme will automatically redirect the user to the theme options as seen below. This indicates you have successfully installed and activated the theme.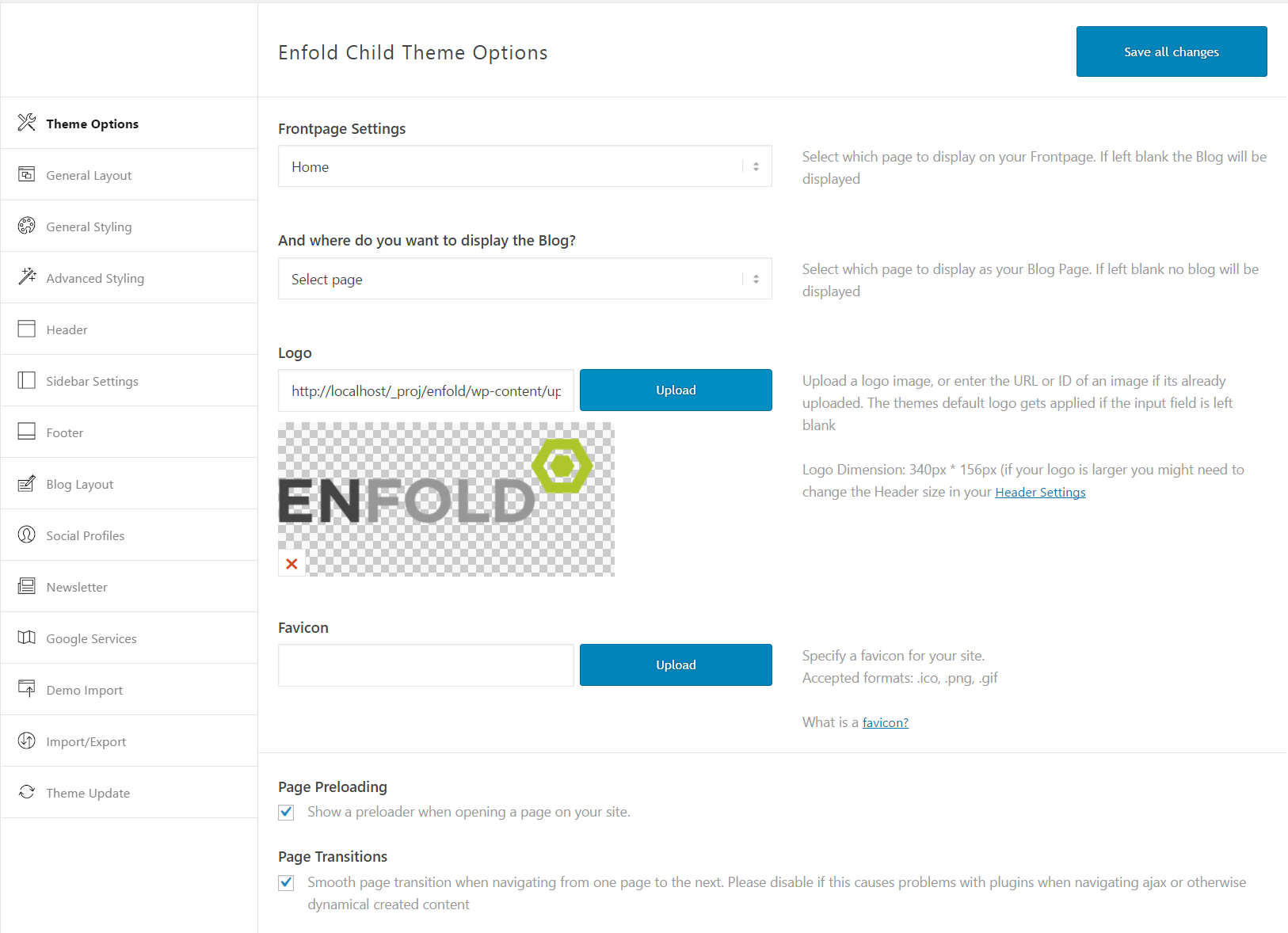 After buying and installing the theme from ThemeForest, registering your theme is a important step to ensure you will receive valuable theme updates that include new features and keep your website secure.
If you already have an Envato Personal Token go ahead and register your theme.
Register your theme with a personal token
Enter your personal token and register your theme from Enfold > Theme Update > Enter a valid Envato private token.

Success Message
If the personal token you entered is correct, you will notice a success message as seen below:


Error Message
If the token you entered does not have the proper permissions or is entered incorrectly you will notice an error message as seen below. You can try some simple troubleshooting steps to resolve the issue.


If you do not have a personal token yet please follow the steps below, we'll walk you though step by step on how to create an Envato personal token and register your theme.
What is an Envato personal token?
A personal token is required to link your Envato Account to your theme and verify your purchase to receive future theme updates.
Until now Envato used API keys to handle the ThemeForest and CodeCanyon product registration and update notifications. For better service, Envato has decided to deprecate its old API key and move towards registering the products using a personal token.
Since the old Envato API will soon be shut down, we recommend registering your Enfold theme version higher than 4.4.1 using the personal token to receive future theme updates. In Enfold version 4.5 or higher, you will no longer notice the old API key and Envato username options. The old API is supported for backwards compatibility by Enfold until the user adds the private token. The old username/key are displayed in read-only input fields and are completely removed from DB when the private token is entered. Instead, you will be asked to enter an Envato Private Token and register your theme.
NOTE: If you already registered your theme using the old API key and Envato username in Enfold 4.4.1 or previous versions, you'll need to re-register your theme using the new Envato personal token.
How to generate a Envato Personal Token?
Before we start please make sure that you log in to your Envato account with the same username from which you have purchased the theme and follow the step by step guide to generate a personal token.
Step 1: Access Envato Token page
To generate your personal token, go to Envato create a token page. If not logged in please use your Envato credentials.
Step 2: Set required Token Permission
Your Token needs specific permissions to verify the purchase and link your Envato account to the theme. Before you create a new token the following should be selected from the list of permission available on the Token page.
View and search Envato sites (checked by default)
View your Envato account username
View your email address
Download your purchased items
Verify purchases of your item
List purchases you've made
You will notice a similar screen when you access the token page.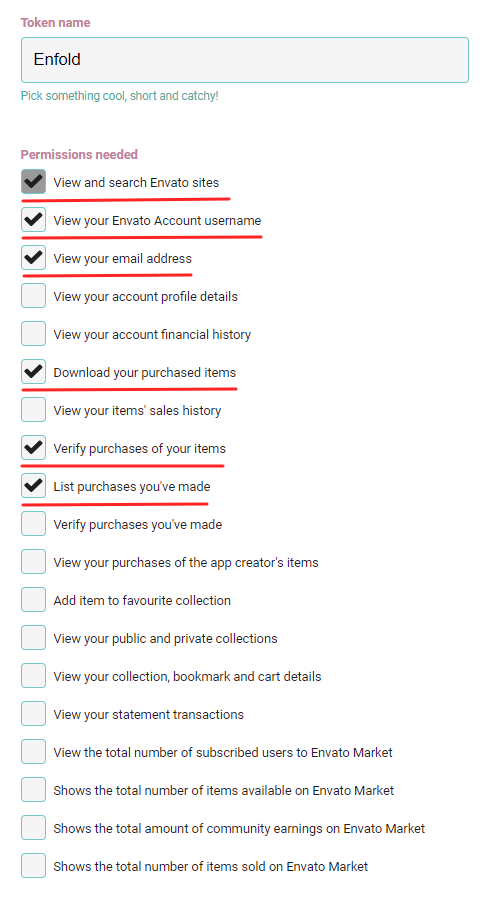 Step 3: Create a new Token
After selecting the required permissions, read the Terms and Conditions and agree to create your new token.

Once you click on Create Token button a new screen will pop up with a Success! message and a Private Token.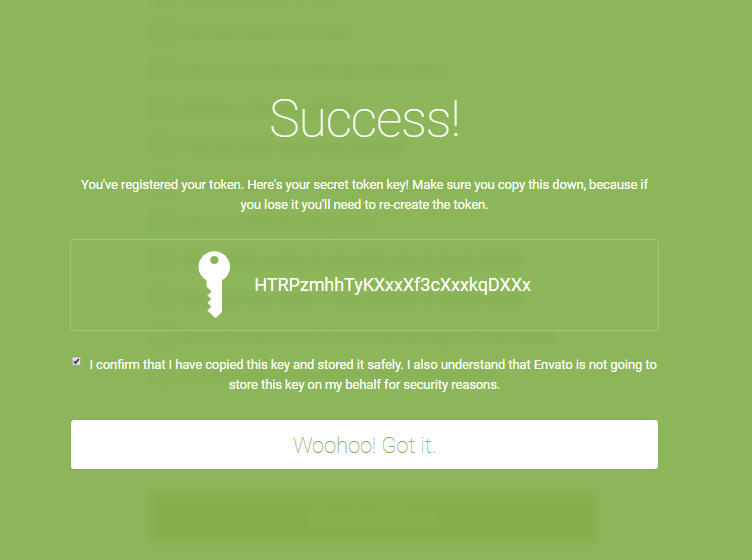 Copy and save your token on your local system. Confirm you've copied it successfully and click the Woohoo! Got it. button to complete the Token Creation.
After completing the steps above, you are now ready to register your Enfold theme. Go to Enfold > Theme Update > Enter a valid Envato private token and enter your token.
Your Token should be kept private just like any of your passwords. Please do not post your token in a public forum, it can actually be misused by others. As Envato does not store your Token key please save it in a secured place so you can access it if necessary and use it in case you have to reinstall the theme and register again to receive updates.
In the worst case, if you lose the token key, you can create a new Token and re-register your theme. Once the token is created you can only edit the permission or delete the token key.
If you are unable to register your theme using the newly created Token key, please follow the below steps.
Verify your Token is not missing any characters when you copy it from the source.
Go to Envato account and recheck your token permission.

Create a new token and try again.
Install the Envato market plugin and set up your token key to get new theme updates.
If you still have an issue please open a support ticket.
Time to time we release new updates which enhance your theme with new features and security updates.
Login to WordPress and click on Dashboard > Update
Click on the Check button in the update page.

If any theme updates are available WordPress will display the list of themes below.

Log into WordPress dashboard.
Navigate to Enfold > Theme Updates
If new theme updates are available you should see Update option.

Log into your FTP account using an FTP program like FileZilla.
Locate the WordPress installation folder and browse to wp-content/themes.
Delete the enfold theme folder.
Extract the theme files from enfold.zip and upload the enfold folder with the theme files.
Upload the main theme files to wp-content/themes/enfold and child theme files to wp-content/themes/enfold-child
To confirm please check the version number in Enfold > Theme Update
Missing style sheet error
A common issue that can occur with users new to installing WordPress themes is a "Broken theme and/or stylesheets missing" error message being displayed when trying to upload or activate the theme. This error message does not mean that the theme you have purchased is broken. If you are getting the no style.css message it means you aren't actually uploading the actual theme file.
When you download the theme files from themeforest you can either download:
All files (with documentation, psd files, wordpress theme, licence, versions file etc).
Only the theme files.
If you download only the theme files and upload them to your server the theme will work fine. If you download "All files" you need to unpack the downloaded zip file first. Inside you will find another ZIP file that contains the actual theme files. This is the folder you can upload to your server.
If you need more information about this topic. Here is a video tutorial by themeforest .
Missing Theme Update Notification
If you do not see the theme update notification display automatically from time to time:
Check the API key is correct in Enfold > Theme Updates
Check for updates manually from Dashboard > Update

If an update is available WordPress will display the list of plugins and themes.

Click on "Check Manually" from Enfold > Theme Updates

Try to clear WordPress transients using this plugin and make sure your API key is correct.
If it does not help, you need to update/re-install the theme manually via FTP or cPanel.
Unfortunately, not all Server environments are able to make use of the auto-update feature provided by ThemeForest :/