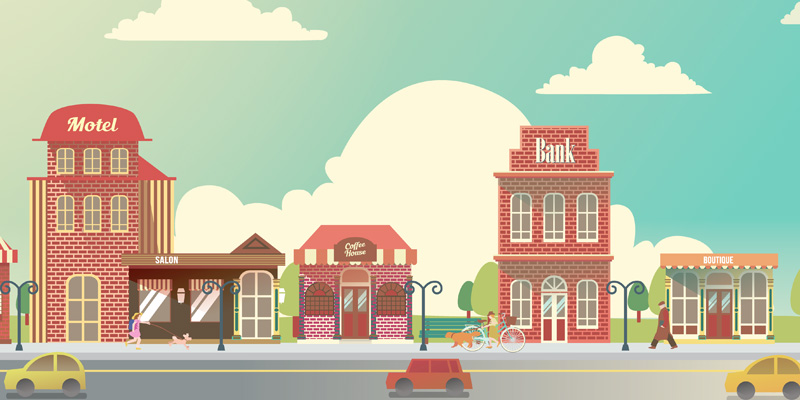 How to Make Small Business Brochure Sites Sizzle With Enfold
How to tackle small and medium sized websites with the Enfold Theme
Small business brochure site design is usually one of the mainstays of the average WordPress developer's monthly income. Big budget projects may come and go, but there is always a stream of new businesses – often local – looking to establish themselves online with a simple yet effective WordPress site.
They're great projects to work on, quick to turn around, and an excellent way of introducing yourself to clients who may rely on your services for years to come.
With the above in mind, in this article we'll cover two main topics:
the core requirements of any small business brochure site, and
how to take advantage of the Enfold theme to build a great small business brochure site.
Let's start with a look at the job to be done.
What Do Small Business Brochure Sites Need?
Brochure sites are not vanity projects – small businesses need them for crystal clear reasons, such as cementing their online presence and driving revenue.
Business owners also need a solution that works first time and promises to make their already stressful lives simpler, rather than introducing further complications.
With those points in mind, every small business brochure site needs to do the following five things straight out of the gate.
1. Provide an Easy Way of Contacting the Business
It's astonishing how many sites out there –  small and large – still fail to do this. Users should be able to find the following items on every page of your site without difficulty:
Contact email address
Telephone number
Postal address
Opening hours (if relevant)
In many cases, particularly on mobile devices, finding this information could be literally the entire purpose of the user's visit to your site. Make it easy for them on every page.
2. Load Quickly and Display Well on All Devices
More importantly than ever, websites should load rapidly and display superbly across all devices. These are no longer "nice to have" features; they're requirements. Nearly 50% of users expect a website to load in under two seconds, and mobile use outstripped desktop as far back as 2013.
3. Be Search Engine Friendly
As well as being expected by users, mobile friendliness and site speed are now also official ranking factors with Google. Without getting lost in a world of snake-oil and chicanery, small business brochure sites should make sure they're solid on general SEO best practices from the outset.
4. Consist of a Core Set of Key Pages
Simple is always better. Including the following set of core pages ensures that your client's business basics are covered and gives a site a strong foundation to build out from:
About: People want to know who they're dealing with. The absence of an About page is an instant credibility killer.
Product/Services: Every site needs at least one page containing a clear description of products and services, who they're for, what problems they solve for for its users, along with a list of features and benefits.
Contact: We've already covered listing contact details on every page, but a dedicated contact page is also a must. Make sure it's set up to track visits and conversions from day one.
Testimonials: If your client has them, put testimonials front and center from the very beginning. If your client doesn't have them, they need to start collecting them.
Blog section:  Amidst the wider struggle of trying to get their business off the ground, it's easy for site owners to see blog content creation as unnecessary busywork rather than a revenue creation opportunity. Encourage your client not to fall into this trap – content creation is a must.
5. Be Easily Updateable by the Site Owner
Clients these days rightfully expect to be able to update their site themselves for all but the most major of changes. Any solution that relies on developer intervention for minor updates is an automatic non-starter.
Basing Your Brochure Site on Enfold

With the ground rules above established, we'll spend the remainder of this article exploring how to use Enfold's core functionality to manage the site build with your client and make their small business brochure site truly shine.
Enfold is a well-established, feature-rich theming platform trusted by over 56,000 users since its launch in 2013. There are three core reasons that make it an excellent choice for you to base your site on in this scenario.
1. No Coding Background is Required
Small business owners are operating in a stressful environment. Unless they're technical by background, the chances of them having either the time or the inclination to grapple with code are slim. Enfold's innovative drag-and-drop interface allows users to create their own custom layouts without having to touch a line of code.
2. Responsive Layout
As we mentioned earlier, having a mobile-ready site is no longer a luxury; it's very much a necessity. Enfold is fully responsive throughout, and displays beautifully across all mobile devices by default.
3. Free Updates and Amazing Support
Enfold comes with a lifetime guarantee of free updates and we also offer top notch customer support. This helps developers accurately estimate costs and means both you and your client can be confident you're covered down the line.
Now let's look at specific ways of leveraging Enfold to deliver the highest quality brochure site possible.
Using Enfold To Fast-track the Design Approval Process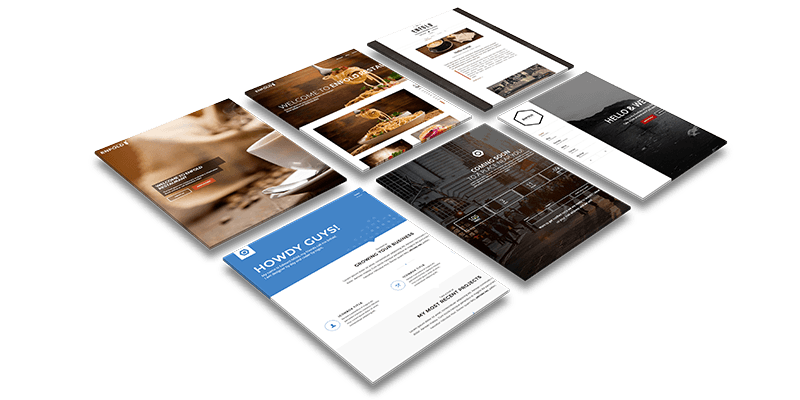 We've already discussed the common pages and functionality every small business brochure site should share. Assuming you've adequately explained these to the client and shaken hands on a general approach, the next step is going to be hammering out an agreed look and feel.
This can be a tricky stage in a site build; particularly with inexperienced clients. It's easy to get distracted by minor details or never really get the big issues nailed down and risk the inevitable disappointment of a Big Reveal delivery at the end.
Use the following features of Enfold to keep everyone on the same page by demoing your design ideas early, and then collaboratively iterating with your client as you proceed.
Demo Content Installations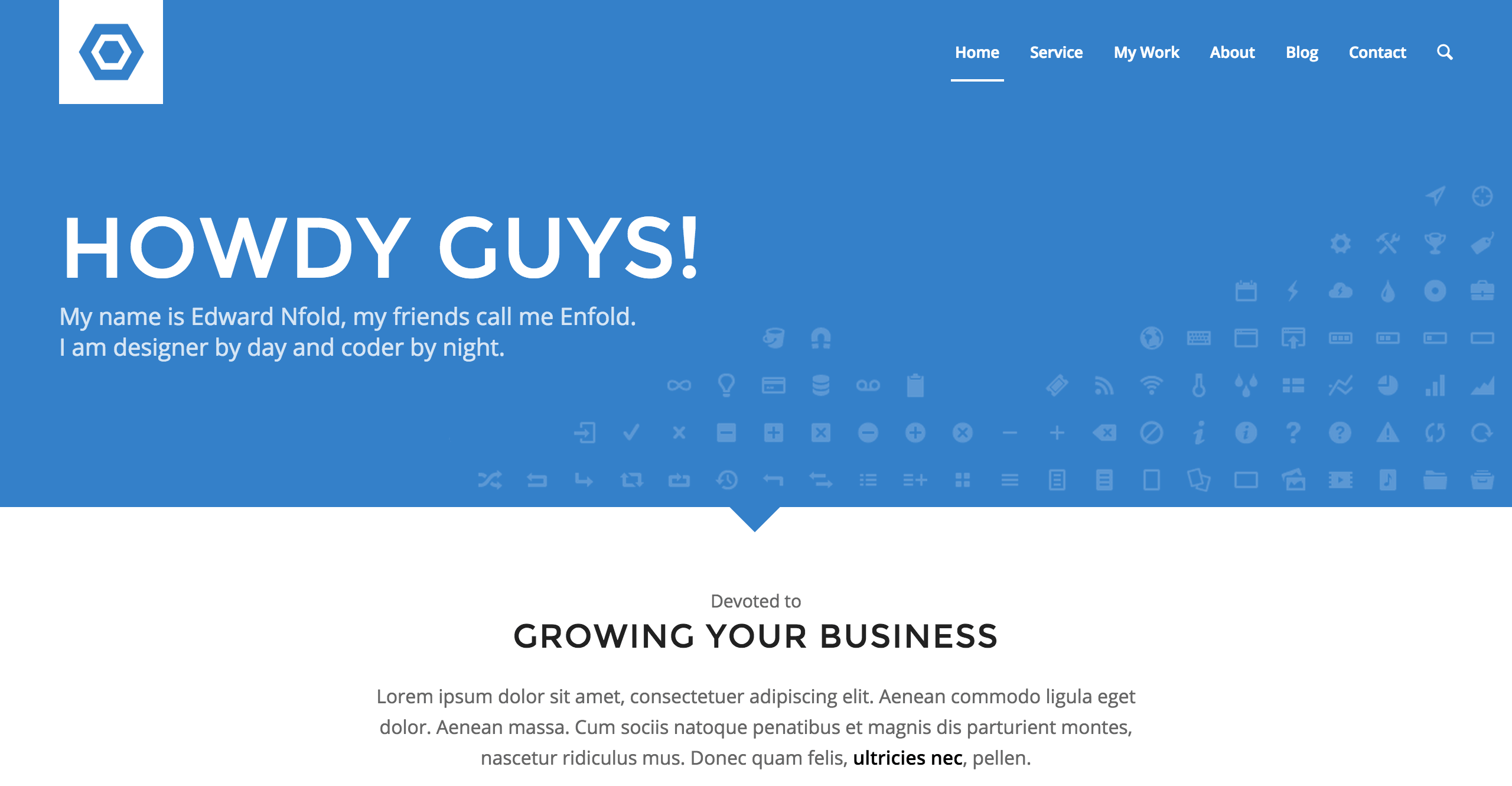 Enfold ships with a number of demo installations that can be used to give clients an instant overview of basic options. Installing the Flat Business Demo, for example, is an excellent way of getting the ball rolling with a small business brochure site. You'll notice it comes with all the elements on our "must have" list pre-installed.
Header Layouts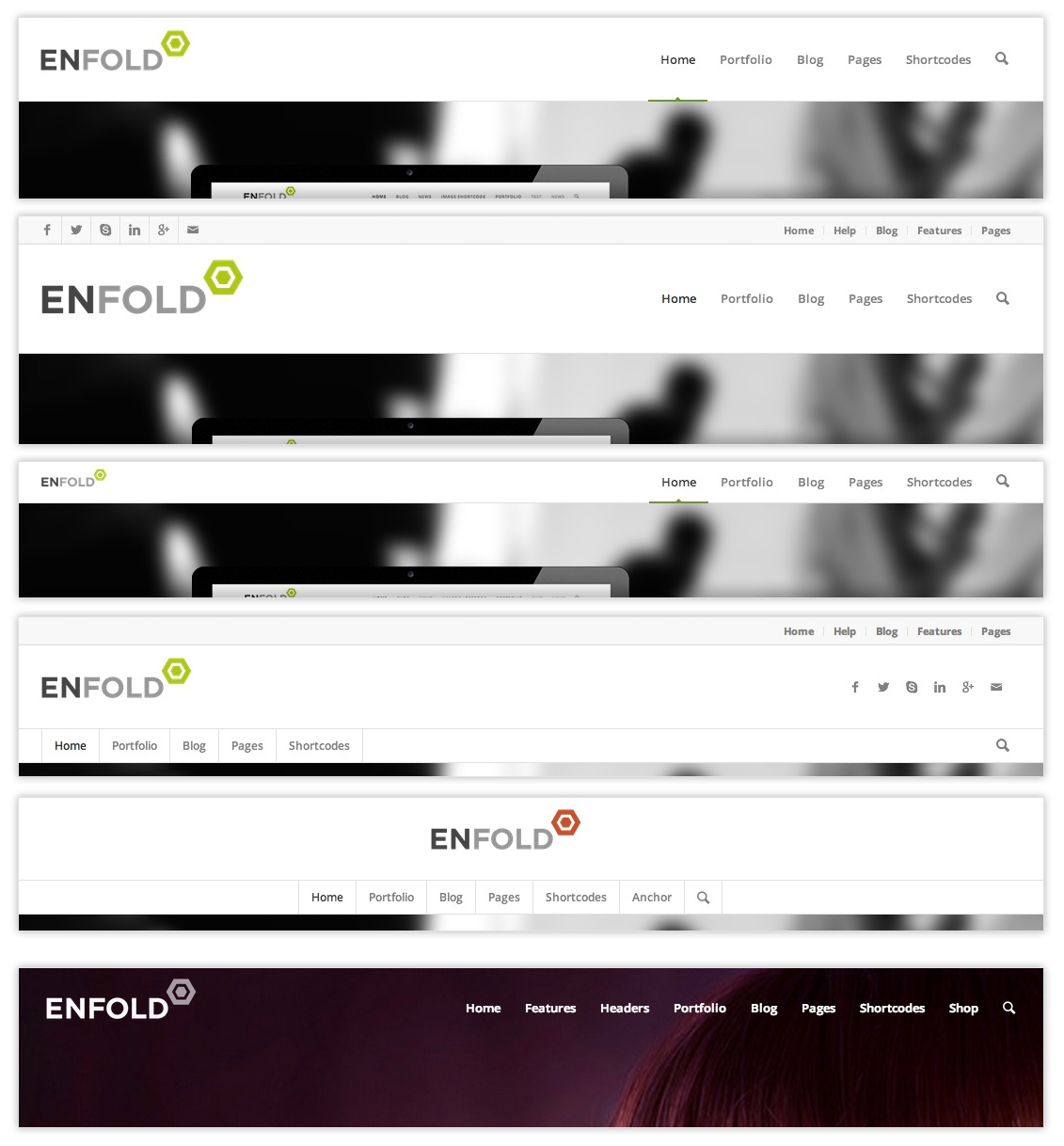 Save time getting the site in order by starting with the useful set of pre-configured Header Layout options that ship as standard. The ability to quickly switch between them gives you a handy way of soliciting client signoff on this crucial element of the site's design.
Template Builder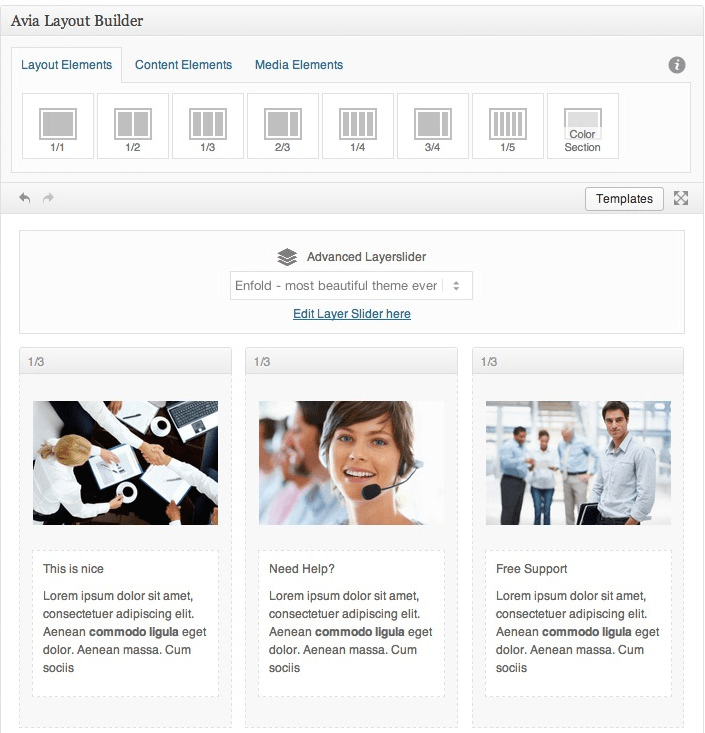 Enfold's Layout Builder lets you quickly define and preview the standard page types that will be used throughout the site. Introduce your client to this functionality early in the process and they'll be able to manage their own changes much easier down the line.
Style Generator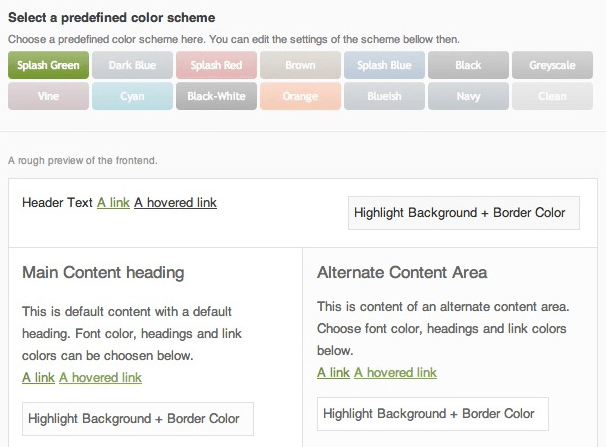 Once you have the basics agreed, make use of the built-in Style Generator to quickly iterate through and share minor design alterations as you build the site out. It gives you a simple, centralized place to manage these changes and your client can use it in the future to make their own tweaks and changes.
Making Content Pop Visually
With the overall look and feel nailed down and initial content in place, it's time to start making the site pop.
As previously mentioned, Enfold takes care of the heavy lifting for you in terms of responsive design, and is also retina ready by default.
If your client has the assets to justify their use, the Easy Slider and Layer Slider options are both great ways of adding extra impact to your pages, while maximizing available screen real estate on smaller devices.
Prepare Your SEO Engine with Blog Layouts
Effective blogging is a must for small business marketing. The blog section of your site should be the hub around which promotional, Social and SEO campaigns are organised.
Enfold ships with four pre-configured blog layouts to select from to give your client the best possible start in that department. Multi-author and no sidebar layouts are included in the mix.
Add User-friendly Finishing Touches
With the core elements taken care of, it's time to add some final touches to improve user experience.
Start by using icon fonts throughout the site to reduce load times and improve usability. Enfold's Instant Ajax Search also makes an excellent addition if you're including site search in your design.
Taking The Site To The Next Level
Judicious application of the core features above should be enough to get your site looking superb prior to launch. As it grows from there, you're free to explore a world of further Enfold integration opportunities to help your client take their site to the next level.
Standout features on offer here include integration with the WPML plugin for multi-language options and full BBPress 2 Forum Support. Check out the full list of new features in Enfold 3.1 for more inspiration.
Conclusion
We hope the outline above has given you both some general pointers to help with your next business brochure site project and some specific reasons for choosing Enfold as its theming base.
If you have any Enfold experiences to share, or tips and tricks you've used for building this type of site, we'd love to hear more about them in the comments below!