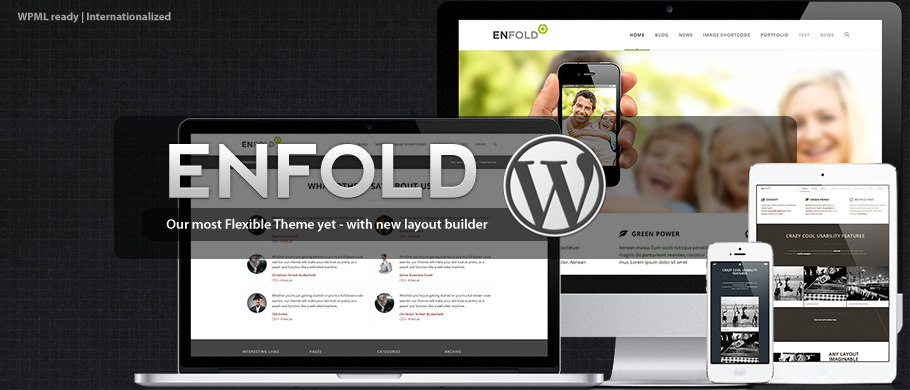 Say hello to Enfold – our most popular WordPress Theme ever
By far the most popular theme we have ever created with almost 10,000 Sales at the time of writing this
I recently noticed that we have never introduced our latest theme "Enfold" on the blog. If you are following me either on twitter or on facebook there is no chance that you might have missed the rise of this theme. Its currently heavily outselling any of our other themes, and I tend to think thats because it is not only really well designed, but also extremely easy to use. First of all take a look at the theme yourself:
Enfold is, like all of our recent releases, built on top of our very own Avia Framework, so it gets all the usual goodies that you are used to when using one of our themes, like the famous 2 minute setup with dummy data, style switching from your backend with 14 pre-defined skins and the option to build your own, font options, layout options, etc.
In addition it uses an all new Drag and Drop Template Builder that really took me months to develop, and I think it shows. The feedback we received til now is incredible, and I think to this day this is the best rated Theme in the Themeforest WordPress Top 10, with an average score of 4.79 out of 5, based on 850 ratings.
Our Video Tutorial Guru Devin has set up a few videos introducing the template builder, so if you want to take a sneak peek, here you go:
Since the template builder is so flexibly the theme is really suited for almost anything you want to throw at it. By now I have seen people using it for small and large Business Sites, as e-Commerce solution, portfolio for designers and photographers, churches, night clubs, iOS and Android Apps and many more.
And because you should always practice what you preach, we will relaunch our very own Website during the next weeks with Enfold being the new Parent Theme to our Kriesi.at Child Theme :)
Stay tuned for more!