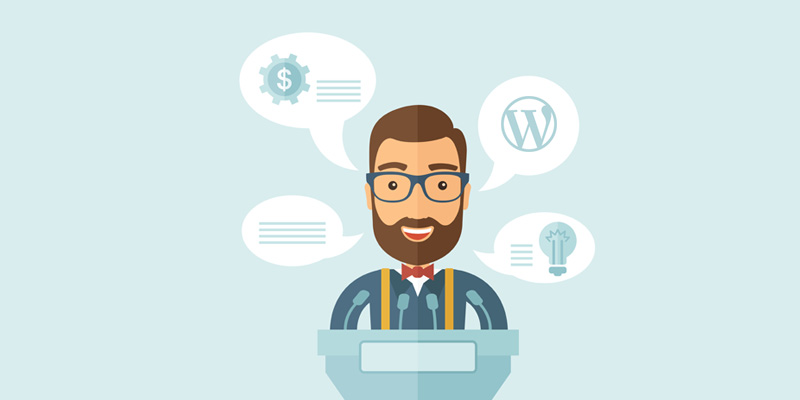 The 12 Best WordPress Conference Talks of 2015
Keeping up to date is key for every successful business. If you are working with WordPress here are some Conference Talks that might help you to achieve that goal
Catching up on conference talks is one of the best ways for theme designers to stay up to speed on developments in WordPress and the wider world of tech. When it comes to quickly getting to grips with a topic, it's hard to beat a well-structured talk delivered by an expert.
2015 has been a bumper year for talks so far with WordPress-focused conferences around the world delivering a treasure trove of information across a huge variety of subjects.
In this article we'll present our pick of the best from WordCamp London, LoopConf, and WordCamp Europe, along with three talks from smaller conferences.
The presentations highlighted deliver a great mix of technical, commercial and design takeaways you can start putting to work in your own business immediately.
Before we go through the talks themselves though, let's quickly cover where all this great content can be found.
Where to Find Killer Conference Content
Over the last few years, it's become more or less standard practice for most technical conferences to share their content online after the curtain comes down on the live event.
XOXO, RailsConf, Clojure/conj and An Event Apart are just four notable examples that spring to mind and you can browse hours and hours of fascinating archived material at sites such as Confreaks.
In the WordPress world, the most common venue for talks is of course WordCamps, the informal community-organized events which have been taking place around the world for nearly a decade now. Nearly 500 WordCamps have taken place in 205 cities across 48 countries to date.
Since its launch in 2009, an increasingly large amount of that content has been available at WordPress.tv where you can browse by event or by tags such as 'keynote'. We'll be taking a lot of our talks directly from that source.
So, now that you know where to search for conference videos in general, let's move on to our specific picks.
WordCamp London 2015
WordCamp London has been running since 2013 and all content from 2013 and 2015 is available online. You can also find information on WordCamps all across the UK at WPUK.
This year's conference back in March enjoyed a bumper crop of superb talks across all aspects of the WordPress ecosystem. We've picked out three talks in particular with a focus on commercial and operational matters, areas that are often under-represented at WordPress conferences.
Brad Williams: Hiring Employee Number One – From Freelancer to Agency
Making that first hire is one of the most intimidating stages in any budding entrepreneur's career but there's simply no getting around it if you want to grow.
Brad William's open and entertaining talk is packed full of takeaways from his experience building up WebDevStudios from a tiny operation back in 2008 to the thriving, full service WordPress agency with over 30 employees that it is today.
Ben Furfie: How to Value Price Websites
The topic of pricing for client websites is a perennially tricky one and can be the cause of much agonizing and head scratching for developers.
Ben Furfie takes the subject by the scruff of the neck in this presentation, breaking down the pros and cons of models such as hourly and fixed pricing before expertly laying out the case for a value-based approach.
If you make any percentage of your income from services, this talk is very much worth your time. It's packed full of specific steps to make your time more valuable to clients and boost your bottom line.
Adrian Restantia: Design Workflow in an Agency Environment for Rapid WordPress Development
When it comes development matters, detailed technical breakdowns are common across the web. The world of design, by contrast, can still be something of a black box.
Adrian Restantia's breakdown of the workflow his agency Moove uses to move through the design process is a welcome glimpse into how a real-world team handles projects for blue-chip clients.
It's a no-frills approach, focused on keeping the client happy while making sure everything runs smoothly internally, and there is much to learn here for development and design shops of all sizes.
For more content in a similar vein, check out WordPress.tv's excellent roundup of recent WordCamp presentations aimed at designers.
LoopConf 2015
LoopConf is a new addition to the WordPress conference scene but, based on the stellar lineup they put together for 2015's inaugural event, they're going to be around for quite some time to come.
The first year's talks stood out for the tightness of the presentations and the range of big names they managed to attract. Most talks clocked in under the 25 minute mark and delivered impressively in terms of value.
Below is our pick of three talks focusing on some of the more technical aspects of theme development.
Zoe Rooney: Automating Your WordPress Theme Development Workflow
As a developer, getting to grips with automation is the key to freeing up your time to concentrate on higher value tasks rather than re-inventing the wheel on every project.
Zoe Rooney's breakdown of the steps she takes as a WordPress theme developer is enormously instructive both in terms of the general principles she follows and the specific techniques employed.
Along the way, she outlines her use of tools such as SASS, Grunt and Gulp and there's something to take away here for theme developers of all experience levels.
Jake Spurlock: Building JavaScript Apps with the WordPress JSON API
The WP REST API is set to revolutionize how WordPress is used across the web.
Jake Spurlock's entertaining overview of how his team at Wired has already started using it for one of the tech world's most venerable publications is a fascinating glimpse into the future.
The talk covers using Node.js, React and other JavaScript solutions to cope with challenges like concurrency while hanging on to WordPress' familiarity and ease of use as part of the publishing workflow.
Chris Lema: Impact Analysis Made Easy
Chris Lema is a familiar figure from WordCamps worldwide. Many readers will also know him from his comprehensive breakdowns of membership plugins or the consistently top-notch content on his blog.
In addition to his writing and presentational skills, Chris also brings considerable technical chops to the table in his role as CTO at Crowd Favorite.
In this talk he tackles an issue that many WordPress developers will be painfully familiar with – how to handle managing changes to code on a project.
Impact analysis can be a dauntingly technical subject but Chris lays out the case for using Codeception in impressively straightforward terms here through a series of well-chosen real-world examples.
WordCamp Europe 2015
WordCamp Europe entered its third year in style with a series of great talks taking place in sunny Seville. The range of topics covered was typically vast and all content from the conference is available on WordPress.tv.
Our pick of the content on offer includes thoughts on the future of WordPress from the man steering the ship, cutting edge development and deployment tools and first steps in theming with the REST API.
Matt Mullenweg WordCamp Europe 2015 Q&A
No list of WordPress talks would be complete without an appearance from the man at the helm of both WordPress.com and WordPress.org. Matt's hour long Q&A was an interesting insight into his current thinking on many of the topics currently exercising the minds of European WordPress users.
Subjects covered included internationalization, the future of the customizer and the ongoing challenge of responding to the rise of mobile devices as a series of excellent questions from the audience kept the Automattic CEO firmly on his toes.
Tenko Nikolov: The Next Big Thing in the Cloud – Containerize Your WordPress
The subject of Linux containers is a hot one in the development world and platforms such as Docker are creating more and more of a buzz.
As CEO of SiteGround and founder of Kyup, Tenko Nikolov knows more than most about the nitty-gritty of hosting and deployment and is in an excellent position to provide insight into what's coming down the tracks.
In this illuminating talk, he moves through the history of containers, the difference between them and virtual machines, and the potential benefits containerization brings to WordPress developers in terms of scaling and portability.
Jack Lenox: Theming, React and the REST API
Automattic's Jack Lenox has been investigating the implications of the REST API for theme developers for the better part of a year at WordCamps worldwide and this talk represents his latest thinking on the topic.
It's a great presentation on why JavaScript is now unavoidable for WordPress developers, where browsers and the modern web are heading, and how WordPress is set to evolve in the light of the REST API.
The second part of the talk provides a handy introduction to Facebook's React in the context of the REST API and some useful pointers to further resources.
Other Notable Presentations
The presentations so far have been from flagship conferences in the WordPress world but there are excellent events taking place all across the globe every month.
Our final three picks are from smaller conferences and cover theming related issues and an insider account of what it takes to build a successful WordPress product business.
Tammie Lister: Theme, Don't Be My Everything
Speaking at WordCamp Maui, Automattician Tammie Lister breaks down the concept of "less is more" as it relates to theme development
Over the course of an excellently put together presentation, she covers where to draw the theme/plugin boundary, UX and the battle against theming bloat and a host of solid design principles.
Cory Miller: The Highs and Lows of the 7 Year WordPress Product Journey
iThemes is a familiar name for many site owners and developers through their work with iThemes Security and BackupBuddy over the years.
In this deep-dive case study from WordCamp Miami, CEO Cory Miller goes through the highs and lows of his seven year WordPress product journey with refreshing candor.
The talk covers everything from his company's initial pivot away from commercial themes, an ill-fated leap into hosting and their eventual success in profitable niches such as security and site backups.
It's a fascinating insight into what it takes to build a successful WordPress-based business over the long haul and essential viewing for anyone looking to follow suit.
Trevan Hetzel: Super Fast WordPress Themes
The WordPress theming market has never been more crowded and performance is increasingly the difference that makes the difference.
Speaking at WordCamp Minneapolis, Trevan Hetzel breaks down the steps he took in making the Flywheel marketing site as performant as possible.
It's a great reminder of the need for speed and full of specific technical steps you can apply to your own theme and site development.
Conclusion
The quality and range of talks taking place each year around WordPress is truly impressive and a great tribute to the community.
The twelve talks we've covered stood out for the quality of their content and presentation but there is a huge amount of further excellent presentations available online from this and other years.
If you're looking to browse more of this type of content, make sure you consult the following resources:
We'd love to hear your thoughts on the subject. Get in touch in the comments below and share your own favorite talks of the year so far!
Liked the article? You should follow me on
Twitter