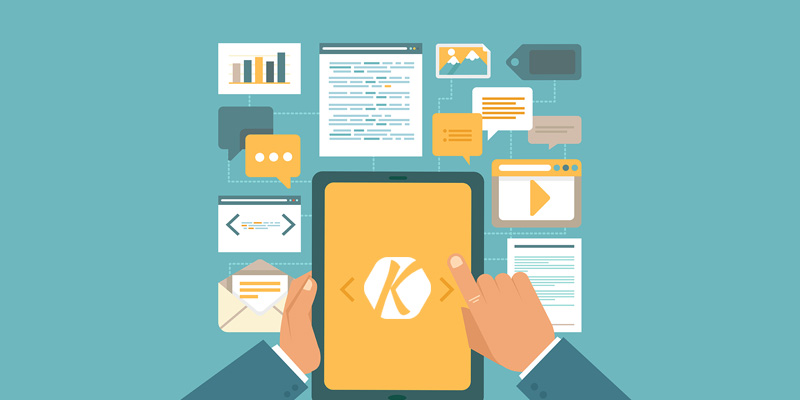 How to Create a Content Strategy to Futureproof Your Revenue Stream
A detailed explanation on why content is king and how to use your king :)  
Business owners are constantly on the hunt for anything that can give them an edge in keeping their revenue stream steady and acquisition costs low.
In this article we'll look at one of the most reliable ways of tackling both those issues – creating a viable content strategy for your firm.
It's a technique that can work wonders for everyone from one-man bands to large-scale enterprises, and is one of the most cost-effective ways of driving growth in the medium to long term.
Before we get going on the implementation details though, let's briefly expand on what makes it worthwhile going down this road.
Why You Need a Content Strategy
As all business owners know, the actual delivery of a successful product or service is pretty much a full-time job on its own. It can be tempting to consider the extra effort needed to generate a content strategy as a project to be shelved for some unspecified, faraway rainy day.
Here are three reasons you should consider moving it up the priority queue:
1. It Acts as a Multiplier to Existing SEO Efforts
In 2015, the basics of SEO optimization are broadly agreed on and the days of mindless keyword stuffing are thankfully largely behind us.
Successive Google updates such as Panda, Penguin and Hummingbird have made a real difference. Content – as it should have been all along – is finally king.
What really moves the needle in terms of search traffic these days is how much real value your content brings to its readers, and how successfully it then goes on to serve the needs of a wider audience through being shared and linked to.
A content strategy gives you a way of reliably producing the right type of content for your audience on a regular schedule that will naturally boost your overall SEO performance and organic traffic.
2. It Forms the Bedrock of Your Social Strategy
Social media is perfect for direct communication with fans and followers but the bottom line should never be too far from business owners' minds.
Well-managed social channels are not just there for show, they are a critically important way of attracting users into your marketing and sales funnels.
A well-executed content strategy solves two problems here: what to promote via social media and where to drive social traffic to if you are trying to capture the lead back on the main site.
3. It Gets Your Marketing Flywheel Spinning
Social is not the only game in town of course. You will face ongoing content requirements across all other marketing channels, whether it be newsletter content, SEM campaigns, PR initiatives or guest blogging to name just a few.
A content strategy is there to help you keep those various balls in the air within the properly thought out confines of an overall structure that is tailored to your exact business needs.
Our Approach
We want to make one point clear here before we dive into the details: there is no one perfect way to map out and execute your content strategy.
Rather than trying to overwhelm you with an impossibly long list of tiny steps that may or may not be applicable to your business, we're going for a simple sequence you can get your arms around and tweak to your requirements.
The important thing when you're beginning is to come up with a clear and actionable plan that leaves you enough room to monitor, iterate and improve on over time.
We'll close each section with an example from a (fictional) small web development shop called Occam Online to illustrate specific action points. They're a four person WordPress development outfit who largely build brochure and small eCommerce sites for local businesses.
We've also included some resources for digging deeper at the end of the article.
Let's get going.
Understand Your Current Content Inventory
Before you try to take action across what is a potentially vast and intimidating set of content requirements, take the logical precautionary step of working out where you currently stand.
We suggest breaking that into three simple categories to keep things straightforward:
Content that is currently working: Is there a blog post or series that got an unexpectedly large response? Or one newsletter blast in particular with an off-the-charts open rate? Write them down.
Content that has failed in the past: Was there a specially commissioned brochure that bombed? A sales script that consistently meets with poor responses? Make a note of it.
Content you've been putting off: Every business has one or more lurking lists of good ideas that were never implemented for one reason or another. These lists are often trapped in people's heads. Get them down on paper for evaluation.
In Occam Online's case it quickly emerges that any articles they've produced on their blog to do with first steps in eCommerce and initial optimization thereafter have been consistently widely shared and resulted in leads.
A quick team brainstorm also reveals several ideas for autoresponder email sequences that their lead developer had been meaning to share for months.
Developing Personas for Your Target Audiences
Developing personas is a new-fangled way of expressing a very old idea – to produce great content, you need to know who you are trying to reach.
Every business has distinct sets of customers for whom many different types of content could potentially be made. Putting together a persona to represent each of these audiences accomplishes two crucial tasks:
It enables you get a clear idea of who you are trying to reach.
It forces you to consider your business from the point of view of that sub-section of your customer base.
Even if you were never to take the concept of personas any further, it's worth creating them simply to bring those two points home for you and your team.
As with most things, personas can be as simple or as complex as you need them to be. Hubspot have a good breakdown of creating personas over on their blog along with a useful template to get you started.
If you're looking for an excellent real-world implementation of this theory, check out Empire Flipper's guide to 6 Types of Website Buyers.
Whichever approach you end up taking, make sure you cover at least the following areas in your personas:
Background: Who is this person? What do they do? How did they get where they are?
Demographics: Break down the person in terms of gender, age, income and location.
Unique Identifiers: What is it that makes this person out? What are their unique qualities?
Buying Cycle: What are the typical stages this person will hit as they go through their own buying cycle?
For the team at Occam Online, it quickly becomes apparent that they have two primary audiences: local service providers looking for an online presence with a simple brochure site, and small businesses nationwide who are looking for an eCommerce solution.
Reviewing their existing customer base, the team establish two distinct personas to encapsulate what they know about these audiences and start thinking about how best to attract them.
Topic Research
At this stage you should have an idea of where you're currently positioned in terms of content and the audiences you are trying to reach.
It's now time to start drilling into the detail and identifying content areas that can be usefully explored. There's no better place to start than with some niche selection and keyword research.
Work through the following steps in the context of each of your personas.
Identify a primary niche: Specificity is your friend here. Rather than targeting "domestic service providers in London", boil it down to "plumbers in Peckham". The more precise you get, the more effective your content will end up being.
Find five initial topic keywords: Within your niche, identify an initial list of five topic keywords to focus your efforts around. By "topic keyword" we mean areas of obvious concern for people who are interested in your overall niche. Copyblogger have a good overview of how to kick this process off.
Dive deeper: Start researching websites and social properties that currently rank for your keywords and exploring the niche in more detail. Keep a constant note of potential content areas as you go.
In Occam's case, a survey of high-ranking existing articles about creating an effective brochure website reveals several targets for what Brian Dean describes as The Skyscraper Technique.
Further topic keyword research also suggests a targeted series on eCommerce optimization that they could produce using existing customers as case studies to generate highly niche-orientated content.
Narrow Down Your Channels
By this stage, you should hopefully be buzzing with content ideas that could deliver specific value for your audience.
The number of content channels at your disposal is potentially vast, so the next order of business is narrowing things down to a manageable subset you can get your teeth into.
For those starting off, we suggest making the following three channels the centerpiece of your initial efforts.
Bear in mind that you are looking to pursue a multi-channel strategy. Any content produced should be carefully leveraged across all platforms.
In Occam's case they decide to make the blog the focus of their brochure site content to begin with and promote heavily with social media outreach.
They split the eCommerce optimization series off into a series of targeted autoresponder email sequences to start building their list and collecting high-value leads. Much of this content can then be repurposed for use onsite and via social in the future.
Start Producing on a Schedule
With a lot of the initial legwork out of the way, it's time to turn to actual production.
Identify Your Production Resources
Work out exactly who will be responsible for producing the actual content. Be honest about the in-house resources at your disposal here and seriously consider outsourcing elements of this if you need to.
The hard work you've put into preparation so far will benefit you enormously if you decide to hire external help from platforms such as Upwork or Problogger.
Establish an Editorial Calendar
Now that you know who will be producing what type of content, it's simply a question of dialling it into a release schedule.
Putting together an editorial calendar for your work helps establish a regular posting schedule and keeps you and your team on track and primed for future success. There are even a number of handy WordPress-based tools to help in this department.
Tracking Results
To get the most bang for your buck, you need verifiable ways of ascertaining whether your content strategy is on-target or not.
Jay Baer over at Convince & Convert does a fine job covering why it makes sense to break your metrics out across consumption, sharing, lead generation and sales from the very beginning. Take it as a sensible starting point for rolling out your own solution.
Our team at Occam quickly decide they don't have the resources to produce all content in-house.
They elect to leverage their expertise by handling the eCommerce series themselves while farming out the brochure site content to an expert freelancer, found via the Problogger jobs board.
Progress and publication for both content streams is tracked via an editorial calendar.
They also agree an initial three month content cycle with a scheduled review phase on completion. Their chief marketing person is put in charge of collating agreed metrics every two weeks.
Next Steps
The key next step to commit to is regularly repeating the entire process we've just outlined. The real value of a content strategy becomes apparent over time as it is constantly tweaked and optimized.
Those looking to explore the world of content marketing further should check out the voluminous resources available at The Content Marketing Institute, Copyblogger, Medium and Contently. The book Content Strategy for the Web is also an excellent primer on the subject.
It's also worth keeping an eye on expert practitioners in the field for general inspiration. The good people at KISSmetrics and Crazy Egg have long stood out for the excellence of their execution in this regard.
Conclusion
We hope that this post has got you thinking about the extra value a content strategy could bring to your business. Let's briefly recap the steps we went through:
Review your current content setup.
Develop personas for your target audiences.
Research topics that will appeal to your personas.
Select your initial content channels.
Produce your content on a schedule and decide on your success metrics.
We're curious to hear if you've already committed to your own content strategy and what types of results you've experienced so far. Get in touch in the comments below and let us know!
Liked the article? You should follow me on
Twitter