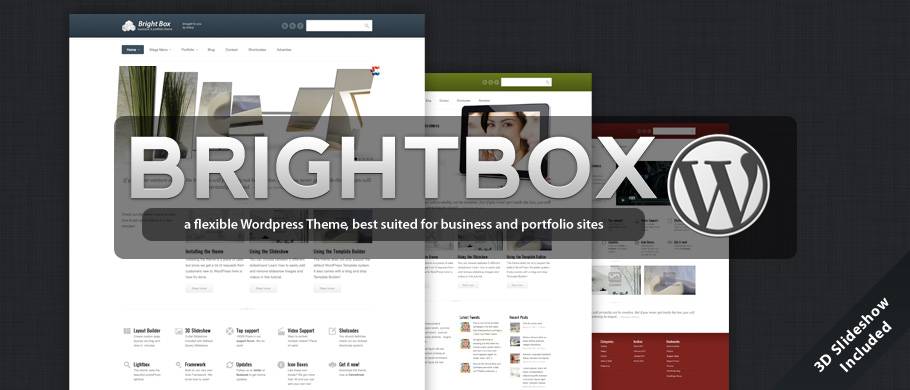 BrightBox WordPress Theme – Flexibility at its best
BrightBox is a modern business and portfolio Theme, built on my AviaFramework which I introduced with the last theme. With the help of a dynamic Template Builder you can create stunning page layouts without any coding knowledge. Yet if you are a developer eager to create your own PHP files the theme supports you as well with a very structured folder and file system.

It has a unqiue built in 3D slideshow manager (no plugins needed), supports both self hosted videos as well as vimeo, youtube, etc and comes with a content importer for faster setup.
Key Features
3 different Cu3er 3D Slideshow + 2 jQuery Slideshows (which also serve as fallback if flash is disabled)
Any Number of Slideshows possible
Supports Videos form any major video hostung service as well as self hosted HTML5 Videos with flash fallback
Template Builder for unique page layouts
No plugins needed whatsoever, everything is included within the theme
Built on my very own Avia Framework, one of the most advanced Frameworks on Themeforest
Visual Shortcode editor with preview function
3 Base layouts + color picker options for any number of gorgeous color settings. Also calculates secondary colors automatically so you cant do anything wrong with your color scheme :)
Unqiue Sidebars for each page/category possible
Extensive User Manual, short videos and professional theme support by me and my team to fix any kind of problems
Unlimited Portfolios, Portfolio Custom Post types
jQuery 100% unobtrusive wich degrades gracefully if javascript is turned off
PSDs included