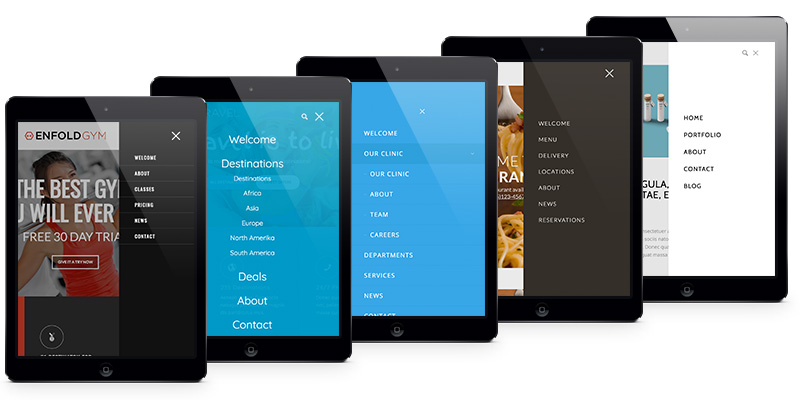 Enfold 4.1: Mobile improvements, Photography Demos, new Gallery and more
This update is the first in a series of updates to enhance Enfolds performance even more, both on mobile and desktop devices
Lets start with the new demos and the new layout builder element. We noticed a lot of photographers are using enfold for their projects and wanted to provide a few more demos for them to present their work. Therefore we created a new minimal photography demo, a dark photography demo and a horizontal gallery element.
What else is new?
After releasing Enfold Version 4 we took a closer look at the requests we got and one that keept poping up was an enhanced mobile experience. We figured thats a good idea since mobile devices are an every growing way to browse the web, and Enfold lacked in a few ways.
So what we added in this first release, which targets mobile devices are a much improved mobile menu that allows to change a lot of styles to make your mobile menu as unique as your site. It is also possible to use the site search on mobile, something that was also not possible.
Another part of the theme which was heavily improved was the mobile options you got for your advanced layout builder. Pretty much all of the elements got a new option tab called "Screen Options" and depending on the element you will find several new settings there. Text based elements, for example, received the option to set the font size based on screen size. Column based elements received the same option for columns. Pretty much all elements can now be shown or hidden depending on the screen size. This allows for some interesting ways to build your website:
Previously you had to set up an element for desktop size and then check if the theme properly scales it down on mobile devices. And although this usually works fine, there are elements or situations were this can get tricky.
Now what you can do is simply set up 2 versions of an element and display/hide them at a breakpoint of your choice. Although it is not recommended to overdo this for the sake of search engines, it is now much easier to present tables of data or various sized images for various devices, for example.
We also added 2 new tabs in your Enfold theme settings ("Main Menu" & "Layout Builder") and added new options for those tabs, as well as placing existing once in there if they are a better fit than their previous parents ;)
There are of course a lot of smaller improvements and bugfixes which you can check out in the change log below.
What's next?
We will keep improving the mobile experience with the next release and also want to improve the performance of Enfold in general. So if you got any suggestions in that direction feel free to use the comments.
Having Update Problems?
Since a lot of files have changed in this release there might be smaller issues (especially with menu customizations) some of you might encounter. If you encounter any issues please follow the steps in this thread and if that does not help: feel free to open a new thread in our support forum. We will do our best to take care of you :)
Change log
added: new photography theme demos: minimal photography and dark photography
added: new template builder element: horizontal gallery
added: new modern mobile menu with more options (old mobile menu item was removed)
added: new theme options tab for the main menu
added: several new options to edit and style the main menu on mobile devices
added: most elements received a "screen options" tab.
added: visibility settings based on the screen options for all template builder elements
added: font size settings to the screen options tab for text based elements (eg headings)
added: column count settings based on the screen options for complex column based elements (eg masonry)
added: advanced styling options for the mobile menu to create unique fly-out and overlay menus
added: new theme options tab for the layout builder
added: option to disable the live preview in backend
added: option to enable custom css classes for template builder elements
added: option to disable the post navigation between single posts
added: google maps options to display Satellite, Hybrid or Terrain maps
added: team element option to change image size
added: Woocommerce can now add structured data to template builder elements
added: tab sections can be pre-opened by url now
added: google maps key check is now done when entering the key for easier checking if the key is valid
added: new orientation for masonry image elements when set to "perfect grid" – you can now display images as squares, as well as landscape or portrait images of various sizes
fixed: an issue with broken columns in tab section in backend
fixed: breadcrumb function with custom shops
fixed: an issue with tab sections on firefox when more than one word was used for the tab title
fixed: several frontend issues with equal height tabs and columns within tabs
fixed: RTL related issues
fixed: an issue with shortcodes when they where copied from one page to another without using the default content field
fixed: several minor query issues with the latest version of Woocommerce
fixed: an issue with special chars in heading elements
fixed: woocommerce cart dropdown on the checkout page was not updated properly
fixed: several minor spelling errors in the template builder
fixed: portfolio custom links now work better with various slideshows
fixed: a woocommerce issue with out of stock items
fixed: an issue with google maps click events and firefox
fixed: an issue with initial active item on tab sections
fixed: a problem with product layout settings
fixed: an issue with linked images inside the layerslider slideshow
fixed: a bug with portfolio ajax slideshows not autorotating or stoping after one cycle
fixed: a minor character encoding problem in the template builder
fixed: a display issue with comment forms when displayed after certain elements
fixed: a few minor issues with php 7.1
fixed: a menu display bug in ios 10+ when the items are animated
fixed: a z-index issue with section overlays
fixed: a problem with disabled backend options not beeing rendered properly after enabling them
fixed: a flickering issue caused by css with the main menu on webkit engines (chrome, safari, opera)
fixed: a validation issue with the mailchimp API key
fixed: an issue with the live preview not updating properly after an option change
fixed: a blog gallery bug when no sidebar blog was used in conjunction with the sidebar main menu
fixed: menu overlay sub level menu items font size and line height are now set properly
fixed: an issue with custom menu color settings and transparent menus
improved: search functionality can now be used on mobile phones
improved: cleanup of several CSS classes
improved: removal of several JS functions that were no longer needed and improvement of existing functions like menu and smoothscroll
updated: layerslider to the latest version
updated: several language translation files