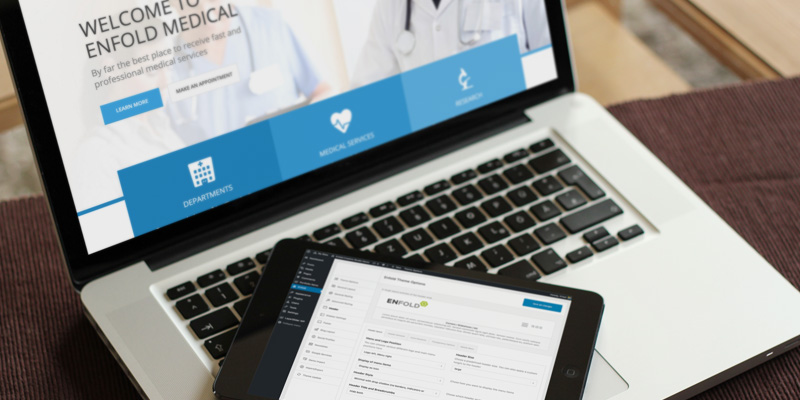 Enfold 3.8: Medical + Creative Studio Demo, new menu options, new backend, slanted sections
Enfold 3.8 comes with 2 new gorgeous demos, new features and improved backend usability
After our recent "no-thrills" Bugfix release it was time to add some new demos and features once again. This time we got 2 new demos. One of them – the Medical Demo – shows how you can achieve a unique look by applying negative top margins on your columns (which makes them overlap the section before) and a custom icon set.
The Creative Studio Demo is a one page demo that shows the 2 new main features of this release: the slanted section borders and the burger menu.
Some love for the admin area
This time we also put some focus on the backend of the theme. The backend options panel was completely re-designed and is now responsive and retina ready as well. It also received a more modern look that fits better to how WordPress looks nowadays. Colors are more fitting, buttons are larger, text is easier to read, etc
In addition to that we made some improvements to the template builder that should enable you to be even more productive (like cloning of single slides, single tabs, accordion items etc)
Last but not least we got the usual bugfixes, which are a little less this time, thanks to the recent major "bugfix only" release.
Here is the change log with the most important changes:
Changelog:
New demo content:
Added features:
added: new modern styling for the theme options backend, which supports retina screens and is also responsive
added: new options to the advanced styling generator for "body" and "p" tags
added: advanced styling option for the new main menu style (burger menu)
added: option to end a section with a slanted border
added: option to clone the last element of a group (eg: clone the last single slide of a slider, a catalogue item or an iconlist)
added: option to change the Fullscreen Slideshow background to scroll/fix/parallax
added: new google fonts
added: custom icons for enfold and portfolio item in admin main menu
added: more styling options to various advanced styling elements, like slideshow captions, slideshow buttons, buttons, etc
added: better google maps api key handling and error messages, as well as update of the documentation on the topic
Bugfixes:
fixed: a bug with meta box sorting when on the edit page screen
fixed: a bug with the animated countdown element not showing the correct date
fixed: a display bug with the animated countdown element on firefox
fixed: a display issue with the caption of non linking masonry elements
fixed: a positioning issue of the fixed fullwidth menu element when using the "fixed frame" layout option
fixed: an issue were long links were truncated in excerpts
fixed: an issue with mailchimp world list dropdown menus not displaying
fixed: an issue with the headline rotator not displaying correctly when multiline was active
fixed: an issue with the menu manager, caused by deprecated menu items
fixed: a bug with the display of the WooCommerce product review form