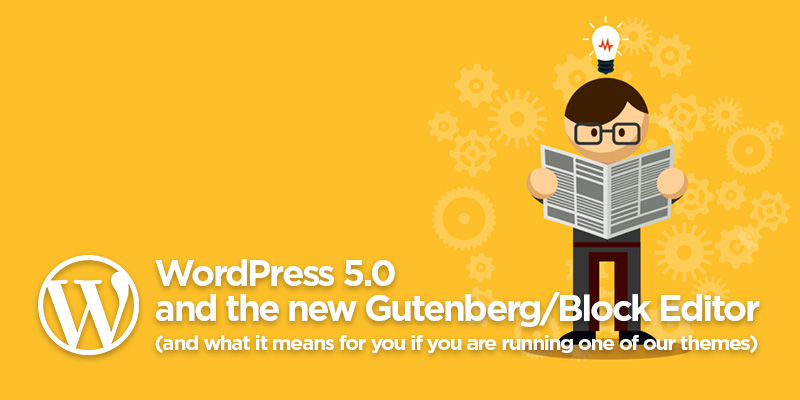 WordPress 5.0, Enfold 4.5.1 and our older Themes
WordPress 5.0 will arrive soon and with it comes a new "Block" based editor that replaces the previous default editor
So this is probably one of the most discussed topics in recent WordPress history. The introduction of the new WordPress Block editor (or Gutenberg editor as it was previously named). Some love it, some hate it, (and judging from the abysmal 2.5 star rating of the plugin, the later group is currently probably the bigger one), but no matter if you like or dislike it, it will affect you if you use WordPress in one way or another.
Here is how it affects our Enfold users, users of our other themes and also how it affects us :)
1.) Enfold Users
With the latest Enfold release to version 4.5.1 we have tried to incorporate the new editor in the same way as it was previously used. Which means when you create or edit a page or post you have the option to either use the WordPress Block Editor or you can switch to Enfolds very own Advanced Layout Builder. The Layout builder basically behaves the same way as always :)
Although with the introduction of a non-reloading backend some features definitely come in more handy now, like the undo/redo functionality :)
Other than that: When writing and editing non-template builder pages and posts you will need to learn to work with the new Block Editor. If you don't want to do that there is a plugin that will disable the new Block editor and activate the old classic editor.
To sum it up: As Enfold user you either will need to upgrade to Enfold version 4.5.1 or install the Block Editor Disabling Plugin, if you want to run WordPress 5.0. Otherwise you won't have proper access to Enfolds layout builder.
2.) Other Theme Users (Replete, Abundance, Choices etc)
Fore those themes you will need to make a choice. They all use an old template builder which is not very flexible and other than Enfolds Layout builder is probably also inferior to the new Block Editor. So you can either use the Block Editor and no longer use the old layout builder or install the "Disable Gutenberg" plugin and use the old one, along with our old template builder.
Apart from that: We used the new WordPress release to take a closer look at those themes and what we want to do next with them. We unfortunately came to the conclusion that it is no longer viable to maintain them at this point.
The reason for this is basically the sales model that Themeforest has chosen. Instead of the need for users to re-license the theme every year for new updates (which is quite common in the WordPress community) they decided to try and generate recurring revenue by selling "support add ons". However those are never enough to cover the development costs of a theme that is no longer in its prime. And since all of our other themes are now 7 years or longer on the market they are quite old in internet terms ;)
So for the last few years Enfold basically covered the update costs for those themes. We think it's time to deprecate them now, as long as they are still working and try to encourage existing users to move on to another theme of choice (preferably Enfold of course ;) )
We will keep supporting our older themes in the support forums for months to come but there won't be any new releases or updates on Themeforest. In fact, within the next 1-2 weeks  we will remove them from Themeforest altogether. So if you are running one of those themes and want to grab the latest version please do so now :)
If you have purchased one of those themes within the last 6 months and don't want to use it because of this, feel free to request a refund on Themeforest. We will grant it, no questions asked :)
Also if you want to keep them running  on your site there are a lot of third party developers out there able to help with all kind of issues and improvements. So if you need help that is beyond the scope of what our support can do we will be happy to connect you :)
3.) What it means for Kriesi Media
So since we are removing all our older themes from Themeforest and only keep Enfold we will become a "one product" company. This should free up some development (and in the far future also some support) time which our existing Enfold customer base probably appreciates :)
We have some heavy improvements planned for our very own Advanced Template Builder but for the near future our editor and the WordPress Block editor won't merge in any significant way. So if you enjoy working with Enfold you can be assured that it will stay that way :)
As always, if you find any issues with the latest release feel free to open up a thread in our support forum so we can try to fix it for you and others as soon as possible :)