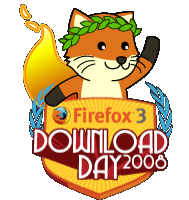 Set a Guinness World Record – Enjoy a Better Web
This is the slogan spreadfirefox.com uses to promote the release of Firefox 3. The evil master plan is to make Firefox 3 the most downloaded software in 24 hours and therefore increasing its popularity.
And since I love Firefox with its myriads of plugins and themes which make developing websites so much easier I thought I could spread the word.
Participating is really easy: just download Firefox3 the day it is released. Release date will be announced soon, if you want to you can pledge to download the browser, spreadfirefox will inform you via mail when to download…