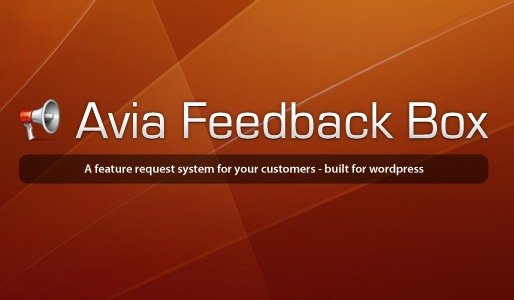 Avia Feedback Box – My first Premium WordPress Plugin
Most of you probably know Dropbox one of the most popular Web-based file hosting services out there. It is one of the few premium online services I pay for, not only because its a great product and dead easy to use, the Dropbox Team also set up an amazing Voting and Feedback tool to interact with their customers.
The Tool is called Votebox and its a powerful way to get customer opinions and at the same time keep them up to date on your work progress. The description at drobox.com sums it up pretty well:
Votebox is Dropbox's very own feature request system. You can suggest new ideas, vote on existing ones, and track our progress too.

You get 9 votes every month. You can choose to use all your votes for one idea you really like, or spread them across between several ideas.

Once we complete a requested feature, we'll move it into the Completed section. Thanks for voting!
Since I really like this way to handle requests I have decided to build a similar WordPress Plugin: the Avia Feedback Box.
Check out the demo site and let me know what you think about it ;)
And while we are talking about dropbox: if you aren't already a customer you should definitley try it out, you can choose the free plan which offers you 2 GB of web storage. If you register with this link you will get an additional 250 MB of space ;)